PHIL'S EXCAVATING - YOUR EXCAVATING PARTNER
STRAIGHT TALK
CONSCIENTIOUS WORKMANSHIP
CUSTOMER SATISFACTION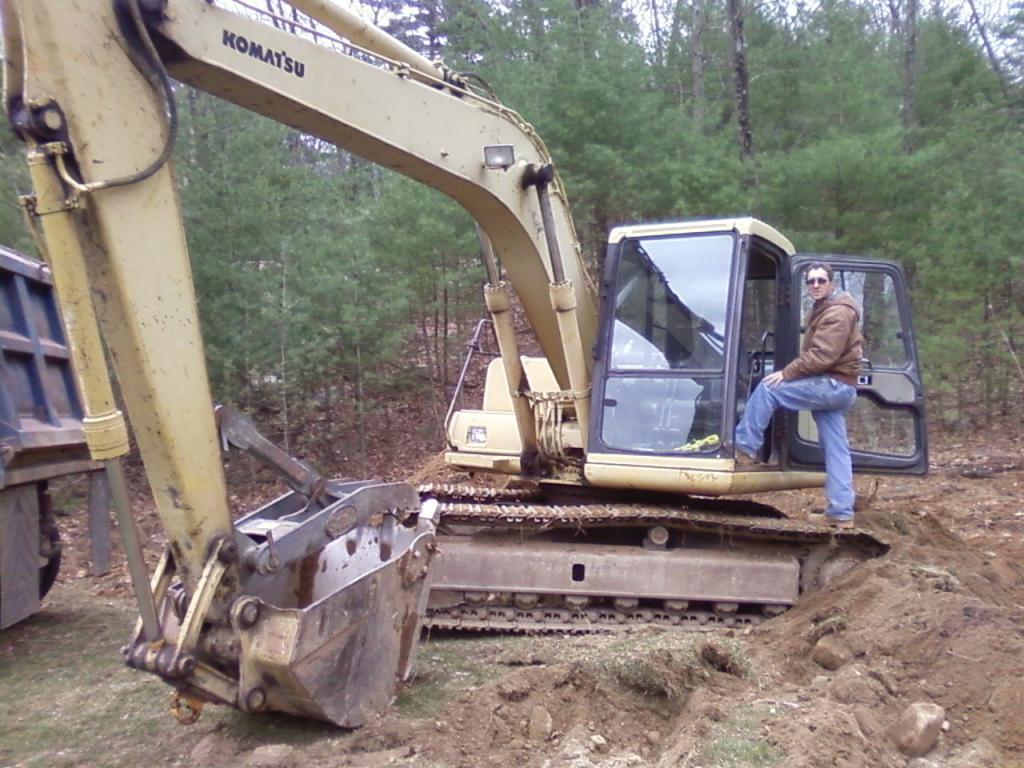 Phil's Excavating is a small, family-run excavating company serving homeowners, businesses, landscapers and contractors in Massachusetts and Rhode Island, within 10 miles of Bellingham, MA. We've been in the excavating business for over 30 years and take great pride in our work.
After listening to your requirements and concerns, we'll analyze the job and give you a straight forward and honest job assessment and estimate. The job will be done carefully with the highest level of workmanship while keeping a safe, clean, neat worksite throughout the process. We are committed to leaving your property in good condition.
We have extensive experience working in limited spaces, as well as on large jobs, ranging from septic system installations and foundation excavations to leveling land for sheds and swing sets.
All our work is guaranteed. We will correct any errors or problems in our workmanship.
We gladly stake our longstanding reputation of trust, attention to detail and premium service to our customers, evidenced in repeat business, referrals, and a growing list of new customers.
Our excavating business value proposition:
.
Your job will be carefully analyzed with your input, at
no charge. A recommendation
will be made on the most advantageous way to proceed, while listening to your concerns
and objectives.
.We will not make a sales pitch. A trusted, respected, and collaborative relationship is our goal.
.Your cost estimate will be as accurate as possible. (Some things can't be predicted such as a high water table, ledge or rocks that must be removed.) The estimate will be fair and reasonable.
. Your job will be planned out before we actually begin, to assure a safe, error free and speedy process. Safety is alway a top priority.
.We are committed to meeting your expectations and to completing the job on schedule. Your satisfaction is our goal.
.Good quality materials will be used and shortcuts will not be taken, to ensure you get an unsurpassed job.
.Every reasonable step will be taken to protect your property and the environment during construction.
.Your property will be carefully graded and meticulously cleaned up after the job is completed, to put your property back in shape as quickly as possible, to minimize disruption.
.Phil's Excavating is a licensed and fully insured excavating contractor. This is not a small item. Excavating equipment is very powerful and can be extremely destructive. While Phil's Excavating hasn't had an accident in 25 years, you need to be protected in the unlikely event of an accident.
.We have more than 30 years in business. Cook's Septic, which just merged with us, also has more than 30 years experience.
.We are a registered Home Improvement Contractor
Massachusetts registration # 146190
Quality is not a sales pitch for us. Since John was a boy he always wore tidy clothes, kept his room neat and insisted that everything be kept in good condition and work perfectly. He was the only kid around who had every piece of the board games he owned. It's who he is and it's in his DNA. He'll be involved in all aspects of your job from the first contact through final cleanup and he'll make sure your job is done well, it's in his nature.
"I know when my customers will be happy because I'm happy with the work" - John Vadenais, owner Phil's Excavating
Take advantage of our extensive work experience and give us a call or email us now to get started on a conscientious, thorough and honest review of your job.
____________________________________________
"As a professional, I've seen first hand that John doesn't overdig the job, minimizes hand labor, and doesn't bang up houses or trees; he cares about his work. Bottom line, John can put the teeth of the bucket down on the dinner table, without disturbing the table setting and he's great to work with."
Bill Fouhy
William J Fouhy Landscapes
"I cannot tell you what a great pleasure it was for us. Brian (Cook) and John (Vadenais) know the business (septic systems), they have the skills and the tools, they have a great crew but they have more - they have great work ethics. They spoke to us in terms we understood and they inspired trust which in my case meant more to me than anything else. To know that the men in my yard were going to do the job right was all anyone can ask for.
In summary, this experience, although frightening to a novice like myself, was a truly successful one because of the people involved. I cannot thank you all enough for your great team effort. Truly means a lot."
Judy Olivo
Bellingham, MA 02019
______________________________________________
See suggestions on what to look for when hiring an excavating contractor.
"Hold yourself responsible for a higher standard than anybody expects of you. Never excuse yourself."
Henry Ward