Property Drainage Systems
Phil's Excavating - Your excavating partner
Straight talk - Conscientious workmanship - Customer satisfaction
Wet yard? Wet basement? Phil's Excavating has 30 years experience designing and installing land drainage systems to give you a dry, usable yard that will prevent surface water from flowing into and flooding your basement.
Our drainage systems include:
land grading

French drains in your yard

dry wells

curtain drains

perimeter drains

yard drains
Contact Phil's Excavating now for an analysis and recommendation on your water problems. We promise to give you a straight forward analysis, a fair price and no sales pitch.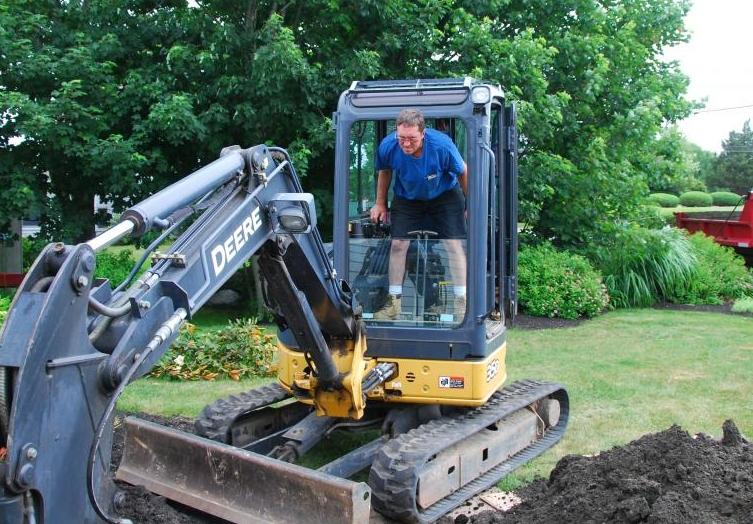 Phil's Excavating will work with you to understand your water problem and your concerns to determine an appropriate way to proceed. We'll carefully construct a drainage system to assure it is long lasting and minimizes disruption of your property. Our attention to detail is unsurpassed and we are committed to returning your property to you in pristine condition. We are a licensed (Massachusetts # 146190) and fully insured land drainage company with no complaints at the Better Business Bureau. You can be assured when we say something, we do it.
We regret that we can only install property and yard drains within 10 miles of Bellingham MA.
An explanation on yard flooding and property drainage
Phil's Excavating believes that the first step in solving water problems is to have a properly graded yard. This costs less than a drain and will last forever, while yard drainage systems require occasional maintenance to prevent pipe blockage and repairs. Sometimes, however, grading alone can't eliminate the excess water. We'll inspect your yard, determine the source of the water and devise a drainage system that eliminates the flooding.
One of the most common causes of basement flooding is a downspout that releases rainwater right next to your foundation. If you have a relatively flat yard that doesn't let the water flow away from your house, the rainwater naturally enters the basement. Adownspout drain directs the water away from your house and helps it flow naturally into the water table. As shown in the middle picture on the left, our downspout drains are designed to handle heavy rainfall.
Notice the picture of a drain between the steep embankment and the swing set. The drain was installed to prevent water flowing down the hill from flooding the yard. The picture was take immediately after we installed the drain, yet the yard was barely disturbed. Phil's Excavating goes the extra mile to protect your yard. Guaranteed.
Contact Phil's Excavating now for a free property analysis and recommendation on yard drainage system. Phil's Excavating installs property drainage systems within 10 miles of Bellingham M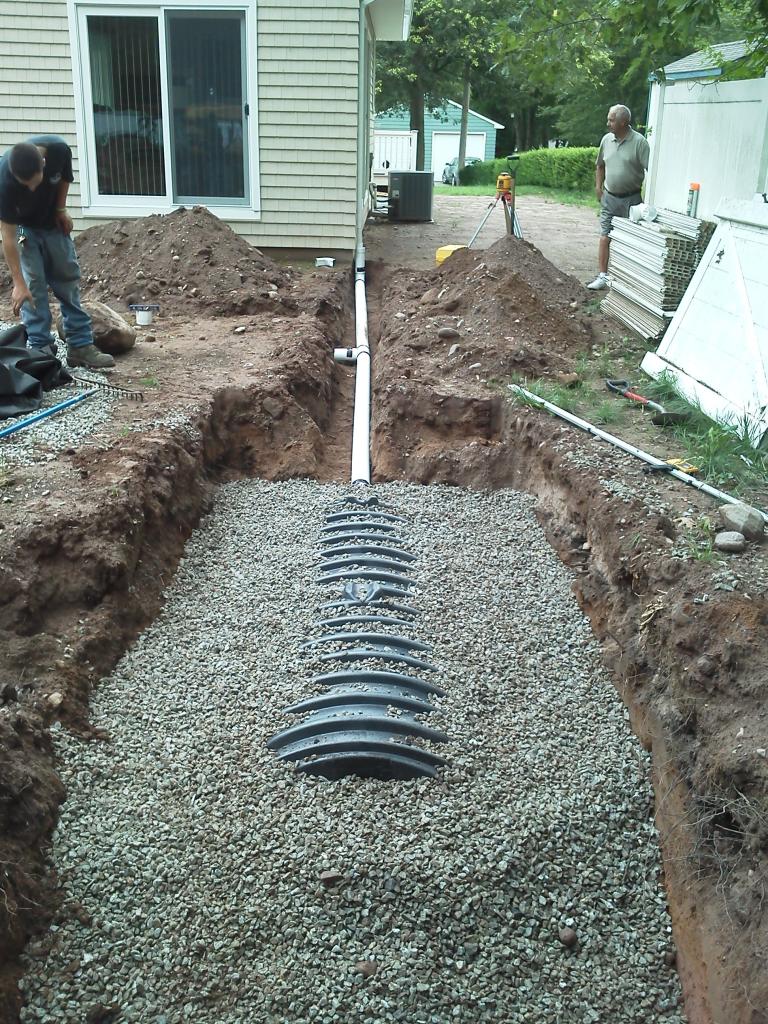 To learn more about land drainage systems and how to keep your basement dry see our page explaining drainage systems.
"You don't find guys like John; he's careful, operates equipment with ease and expertise, has talent, and takes care of your property, in all the jobs he signs up for. I like working with him because he's there when he says he'll be there, and his work is neat and clean.As a landscaper who insists on meticulous results, I find John great to work with. He offers his point of view, maybe he has a better idea how to do the job, but he doesn't make you feel like a jerk. He offers his advice (to me and the home owner as well) in a way that lets you see his 25 to 30 years of experience (and what he learned from his Dad before him) will help you get the job done more effectively."
Bill Fouhy
William J Fouhy Landscapes
"Excellence is doing ordinary things extraordinarily well."
John W Gardner
____________________________________________