Land Grading Services

Phil's Excavating - Your excavating partner
Straight talk - Conscientious workmanship - Customer satisfaction
Land grading is a deceptively difficult and skilled job. Phil's Excavating has 30 years experience as a land grading company and will get the job done right. Whatever your land leveling needs are, from swing sets to large plots of land and everything in between, we guarantee the finished job will be picture perfect. You will love the results or we'll redo the work.
We carefully grade the slope away from foundations so that water will run away from the building and will prevent soil erosion. The grade will be designed so that your property is usable to you, while your trees, driveways and walks are protected and rain will naturally soak into the water table where it belongs. We are a licensed (Mass #146190) and fully insured land grading company that grades property within 10 miles of Bellingham MA.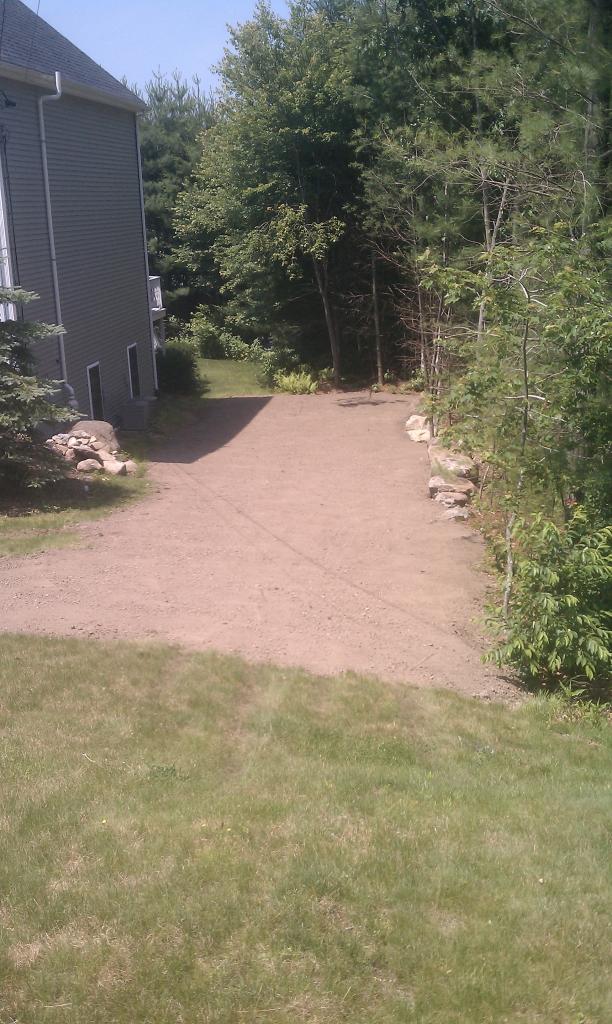 Email us or give us a call now. We'll work with you to come up with the best solution possible for grading your property. We don't over promise, we deliver.
We are an excavating contractor committed to earning your business by doing the finest job possible. You can be sure of our commitment to you because John, the owner of Phil's Excavating, will be involved during the entire job from the original proposal, doing the actual work, right through cleanup. He's a perfectionist and really good at his job. Our prices are fair and all work meets the highest standards.
____________________________________________
"Just had to write...John and crew prepared our yard for a shed installation in June. The crew was punctual, neat, and very courteous. Today the installers came to put the shed in and told us that they rarely see such a meticulously prepared site. Thanks John! We will be calling you again very soon! We HIGHLY recommend Phil's Excavating!"
Judy Moses Dennison, Mendon, MA as posted on Facebook
"We hired Phil's Excavating to help us with our backyard. It needed a lot of work. Our goals were to give our kids a nice, flat place to play and to improve the overall look of the backyard. John was great. He helped get rid of some very large stumps in our yard from trees that needed to be removed. He came in and hauled away 13 or 14 loads of dirt from our yard to help give us as much space as we could get for the kids to play. This also meant he had to bring huge rocks in and lay them at the edge of our property to support the change. The rocks look wonderful. He and his crew were very professional and knew how to make it look beautiful. He brought more large rocks in to help retain the dirt on the side of our home. All of these rocks were placed carefully and look better than we could have hoped. He listened to us and added insight that really improved our backyard.

John also helped back-fill the area behind our retaining wall so it would last and brought in all the loam for the yard. It was great stuff and they were very careful with the finishing touches of the yard. The grass grew quickly. He took care to be sure everything was graded properly and we've had no issues, rain or shine, with the yard. Last but not least they also helped prep the area for the patio. Overall we couldn't be more pleased with the backyard or our choice to have John's expertise and experience on the job."
Heather Allen
Franklin
"I was very happy with John's results (multiple excavating and landscaping jobs). He's easy to work with, does a great job, and is very approachable. John is not only a good listener, but has great ideas he's willing to share, based on his many years and experience in the business. I have and will not hesitate to call him again, as I need additional jobs done."
Summarized and with direct quotes from telephone conversation,
Eva Steinhardt
Satisfied Customer, Franklin, MA
Contact Phil's Excavating to receive a free, no sales pitch evaluation and price on your land grading job.
"Be a yardstick of quality. Some people aren't used to an environment where excellence is expected."